'Shall we meet on the hilltop, where the four roads meet…'
So sang Marianne Faithful in The Witches Song on her 1979 album, Broken English. The song wasn't of witches but of the women's protest community at Greenham Common. And this post isn't about Marianne Faithful, Witches, or Greenham Common. But it does begin with a crossroads.
Considering the folk-lore surrounding crossroads—e.g. there being too many choices of ways that the spirits don't know which to take and thus are held there, in confusion, till daybreak (my favourite)—it seems amazing that, when it came to settling beside the River Wensum in Norfolk the Anglo-Saxons opted to plant themselves so close to this one, formed by the pre-existing Roman roads.
These are the earliest evidence of the Saxons of Norwich: C5th-C6th cremation cemeteries beneath what were to become the parish churches of St Michael at Plea, alias St Michael Motstow (the meeting place), and St Gregory; while excavations around the church of St Martin at Palace have revealed Middle Saxon foundations (C9th).
Later, the Vikings set up a 'vik' (i.e. a Scandinavian trading place) the site marked by the early Scandinavian church St Clements.
Street names reinforce what archaeology has found. In the Saxon areas: Westwick, Conesford and the (no-longer-used name) Holmestrete Way; in the Scandinavian areas—well, just about every road's a 'gate' (gata, ON 'street'): Cowgate, Colegate, Fishergate.
But all that's a digression, although related.
Norwich is my home town. It's where I grew up, where I hit my teen-years, where I partyed (less said of that the better). So I tend to take for granted the sights of 'Medieval Norwich'. Not so my daughter. She knows the city centre: the Norman castle . . .
'Norwich Castle and Oxeye Daisies'
© Richard Osbourne
. . .  the C12th cathedral . . .
via harsnettchoir.org
. . . the C15th Guildhall . . .
Perhaps she also knew of the city walls . . .
copyright Stuart McPherson
But she didn't know the ways less-frequented: the Scandinavian 'gates', the streets lined with crumbling Tudor edifices. So . . .
It was a pleasant late summer day. A Sunday. So we did the touristy thing and walked around Norwich. We started by skirting the southern stretch of the city wall—which took us onto the old Roman road. I took a few photos . . .
Some are shots you won't find on Google . . .
. . . these walls were built for defence . . .
that's for the firing of arrows
And as you can see, Norwich was built on a hill.
At this stage, beneath our feet was a labyrinth of tunnels through the chalk bedrock. Occasionally that rock gives way creating a hole above an old mine—and a bus falls into it. Although where that happened was way across town.
from: www.pistonheads.com
Nope, it's not a put on. It's for real.
In medieval times the tunnels were thought the home of dragons—which were probably overgrown and unwanted pythons and crocodiles long discarded by returning crusaders thinking the baby reptiles were cute.
We were heading for that stretch of the river that backs the cathedral. So I took my daughter along King Street. Here are the oldest vernacular buildings remaining in Norwich.
Old bricks. Ancient beams. Modern graffiti.
And so through the cathedral close . . .
St Ethelbert's Gate, courtesy of wiki
I can't count the number of times I've walked through this Close, how many times I've seen the cathedral. Yet today, perhaps because of the nature of the visit, I looked past its later Gothic (English Decorated Perpendicular, or whatever it is) additions to the Romanesque structure beneath. And I really should have taken my own photos, but I was sure I could find some, somewhere, on the internet. Ho-hum. Still, you can see what I mean of the earliest structure . . .
Copyright Evelyn Simak
And so down to the water. The Wensum. Ah, that's another Saxon name: wændum, means 'winding' (and it sure does wend across the county).
And look, another tower! This is Cow Tower. It's later than the city walls. It was designed to take cannon.
sourced from Wiki (slightly better shot than mine)
. . . and I couldn't resist this . . .
Yep, a housing complex for birds.
We'd now circled around to arrive at Elm Hill. While that doesn't appeal in all its quaintness, beyond it sits St Andrews Hall. Before Henry VIII dissolved the monasteries (yea, I know, that's not quite the right expression but I like it) this was a Dominican Friary (Blackfriars). The city corporation allocated it to the newly-arrived Flemish and Walloon immigrants as a trade hall for their wool—and that is a post I shall do, eventually (expect it some time before 2020!).
sourced: www.churches-uk-ireland.org
Like most medieval cities, Norwich had its full quota of religious houses: the Cathedral Priory (Benedictine), a Franciscan Friary (Greyfriars), a Carmelite Friary (Whitefriars), an Augustinian Friary, Carrow Priory (Benedictine), the College of St Mary in the Fields (which gives its name to Chapelfield), the Great Hospital of St Giles, still in existence, though now as St Helen's sheltered housing for the elderly (an ALF). And not to forget our very own mystic, the anchorite Saint Julian.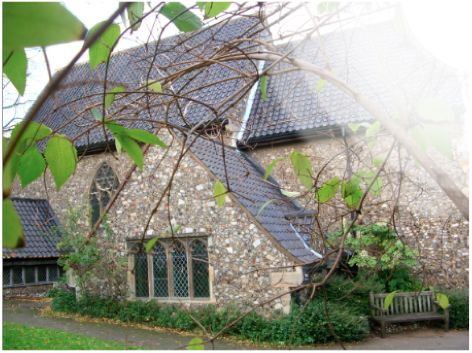 St Julian's church, showing the cell where she spent her life.
www.orderofjulian.org
Strange how we walk miles in the countryside with no ill affects to our feet. Yet after only an hour or so on city roads we're keen to find somewhere to sit down and to eat. 'Let's head up to the market place.' I know there's seating aplenty there.
But first there was a church I particularly wanted to see. St Michael's, Coslany. Dating to 1500's, and described as 'the finest late Gothic achievement in any of the churches of Norwich', it was the work of John Antell, the master mason responsible for King's College chapel in Cambridge.
sourced: http://www.norfolkchurches.co.uk
I think you'll agree, it's quite outstanding for a small parish church. But then that parish was at the heart of the wool industry in Norwich.
There's so much more about my old home town that I could have included. But I felt the need to keep it brief. Besides, I can always include the rest in the post I'm intending on Norwich Wool Trade.